Bio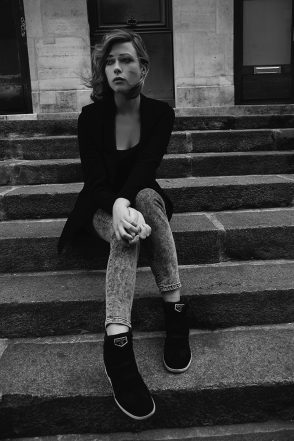 Jennifer Sky is a writer and artist. Previously she was a successful teen model and actress in television and film.
Her eBook, "Queen of the Tokyo Ballroom," published by The Atavist Magazine, is about the summer she spent in Japan at age 15 as a fashion model.
Her writing has been featured in a number of print and on-line publications, including The New York Times, New York magazine, The New Republic, New York Observer, The Daily Beast, and Tin House. She was interviewed for CNN's "This is Life" with Lisa Ling. She has been a Contributor for Interview magazine and a Contributing Editor for One Teen Story. Previously she worked as a freelance researcher for ABC News.
Her nonfiction covers a wide range of topics but many focus on personal essays, interviews, healthcare, and recently, she has focused her journalism on human rights and labor rights within the fashion industry. As a freelance journalist, she has had the honor of interviewing such esteemed authors as Salman Rushdie, Cheryl Strayed and Colson Whitehead.
From age 14, Jennifer traveled extensively as an underage model, working for such magazines as Seventeen, YM, Allure, Elle, Mademoiselle and Vogue Bambini. She booked campaigns for Pepe Jeans, California Tan, Dannon, Baby Ruth, and Ford. Her cover shoots included Sassy magazine and Maxim.
During her late teens and twenties, Jennifer pursued an acting career, studying acting with Bill Esper and Greta Seacat in New York before relocating to Los Angeles for a contract role on General Hospital. She appeared on the final season of the Mickey Mouse Club and went on to work on Buffy, the Vampire Slayer; CSI: Las Vegas; and Charmed. She had recurring character roles on CSI: Miami, Fastlane, and Xena: Warrior Princess. She starred as the title character on the cult Sci-Fi series Cleopatra 2525. In movies, Jennifer appeared opposite Peter Falk and Matthew Rhys in Columbo Likes the Nightlife, opposite DMX in Never Die Alone and opposite Bradley Cooper in My Little Eye. She made a brief cameo in Sofia Coppola's Somewhere.
Jennifer holds a BFA from The New School and an MFA from Brooklyn College.